This is the fifth in a multi-part blog about my 2 week stay at St. Vincent Seton Specialty Hospital. Here is an index to all of the entries in this series.
Vertical at Last
We are now up to Monday, December 19, 2016. Things were relatively quiet around the hospital over the weekend but starting Monday things were much more active. The staffing levels were higher. Therapist were back on duty. Although we didn't really need the people from physical therapy to assist getting me out of bed and into the wheelchair, they wanted to be involved in that activity. They would need to round up a lift seat for me to use. Rather than a regular Hoyer patient lift like I use at home with a pump handle that you have to pump up and down and it rolls around on the ground, they had a motorized hoisting device hanging from a track on the ceiling. It was best we had them help because we really didn't know how to work the gadget yet. I had had an uneventful night and my lungs were in pretty good shape according to this Facebook post.
[12/19/2016 11:06 AM

]
We eventually rounded up someone from therapy and they got us a lift seat and managed to get me into the chair without incident. I took the opportunity to drive around the hallway up and down once or twice. I went across the hall to visit my neighbor. It was a guy who looked like he was about 60 or so and had had some sort of physical problem I forget what. He was awaiting the opportunity to be transferred to a rehab hospital and ended up being discharged the same day that I was about two weeks later. We then set up my laptop on the hospital tray and I figured out how to use the WebCam to do a live video on Facebook. Here's the video I posted.
In the background of this video you can see the motorized lift device hanging over my dad's head.
That evening I was visited by my friend Judy Chapman. It was the first opportunity I had had to talk with her since I had been in the hospital. During her previous visits in the St. Vincent ICU I had still been on the ventilator and could not talk. I was able to tell her the complete story of all the events that had brought me this far. We talked about the text message I sent her the content of which became the title of that 14 part blog series "Pray That They Listen to the Man with No Voice". I talked about the two incidents with nurses who treated me so badly because I couldn't talk and defend my position and about the therapists who did take the time to pay attention to my wishes. It was wonderful to get caught up with her and tell her all the stories I had not been able to tell her up until now.
The only other item I have from my notes for that day was that I had constipation and had to take a suppository. The bedpan that they had at the hospital was very uncomfortable so I had dad bring my bedpan from home. It was one I found on Amazon that had a very wide lip around it. The standard bedpans these days have a sharp edge that digs into your hips and can be uncomfortable.
As Dry as Arrakis
On Tuesday the 20th, they did a big team meeting. It included the case manager Michelle, people from all of the therapy departments, the nurse practitioner, and even the chaplain. It's a weekly ritual where they evaluate how you are doing, what your goals are, and address whatever concerns any of the team has about your care plan. We made the conclusion that I did not need physical therapy, or occupational therapy so I was officially "discharged" from their programs.
One of the issues we addressed was my concerns about humidity. After being up in my wheelchair for a couple of hours the day before, I had ended up with a little more congestion in my lungs because my lungs had dried out somewhat. At times I had a little difficulty with coughing spells while trying to talk to Judy that evening.
As I had mentioned in the second installment of this blog "A Busy First Day", they had me wearing a device called a trach mask. It's a clear plastic cup that fits over your trach and is held around your neck with an elastic strap. A hose connects it to a source of heated humidified oxygen running at up to 10 liters per minutes. I didn't really need the extra oxygen but I was pretty sure I needed humidity. Normally when you are breathing through your nose or mouth, the air is warmed and humidified by the moisture in your sinuses or mouth before it enters your lungs. However when you are breathing through a trach, the air goes straight into your windpipe and doesn't have the opportunity to be humidified. They made a big deal about how I needed to be on this humidity all the time. It was very noisy and most of the time I would turn it down from 10 to about six or so.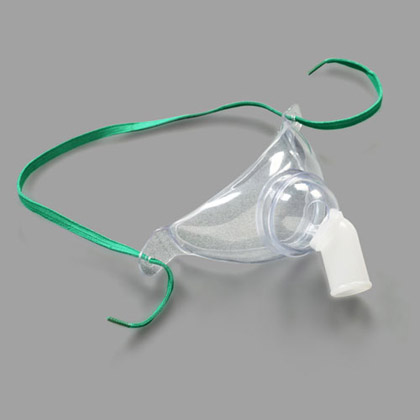 One of my growing concerns was what to do once all of this was over and I was trying to get my life back to "normal" again. I knew I wasn't going to need to be on a ventilator all of the time. The talking valve meant that I had my voice back again. But I didn't want to be tied down to some big piece of hose connected to a humidifier all of the time.
One of the alternatives is something called an HME attachment for your trach. The letters stand for Heat and Moisture Exchange. Sometimes it's called an artificial nose. It is simply a cap that fits over your trach and it has a small piece of foam in it. As you exhale, it captures the humidity from your breath. Then when you inhale, the humidity goes back into your lungs. It kind of reminds me of the stillsuit technology worn by the Freemen on the desert planet Arrakis in the Frank Herbert sci-fi classic "Dune". The problem is, it doesn't work with a talking valve.
The Passy-Muir talking valve has a butterfly flap inside it. When you inhale, the "wings" collapse and allows you to breathe in through the trach. When you exhale, the wings flap apart closing the passage and instead of exhaling through the trach, the air goes out your windpipe and past your vocal cords allowing you to talk normally. So the HME device never gets your exhaled breath to collect the humidity to be recycled. You already know how I feel about not having the ability to speak so the HME was not a viable option either.
The only other alternative is what is called a "red cap". It is a solid cap made out of red plastic that completely closes off your trach. Then you just breathe normally in it out your mouth or nose through your windpipe as if you had no trach at all. After discussing this option with the respiratory therapist I tried to get the doctor or nurse practitioner to write orders to allow me to try it out. I got in a somewhat nasty argument with a nurse practitioner named Joy. She tried to convince me that because my particular type of trach had an inflatable cuff that it was not meant to be used with a red cap device.
The problem is that if for some reason the inflatable cuff doesn't get fully deflated or if somehow the cuff would malfunction and block your airway, you wouldn't be able to breathe at all. Without the red cap device, if the cuff would fail and block your airway, you would still be able to breathe through the trach. Even with a talking valve it might be difficult but you wouldn't suffocate. I suppose that's one of the reasons they make it red is because it is a somewhat dangerous device. You don't want to accidentally put one on a person who shouldn't have one.
I tried to convince the nurse practitioner in a very heated debate that I did not want to be tied down to a humidifier. I practically begged her to let me at least try the device and she pretty much refused. Later in the afternoon I did some online research about trachs and how the cuff works. I believe at one point they even brought in an anatomical model to show me how a cuffed trach works. There were also some online videos that explained it. The doctor was going to be making rounds that evening and I had planned to appeal to him for the use of the red cap but by then I was beginning to understand the real risks and so I gave up on that idea. So it was a very heated debate… but it was a dry heat 🙂
This Facebook post inarticulately tries to explain all of the above. There are some dictation typos and errors that make it almost unreadable in places. I guess I didn't proofread very well. [12/20/2016 6:05 AM

] I also got up in the wheelchair again for the second day in a row and made the following live Facebook broadcast.
Skills Lab
At some point dad was going to have to learn a lot of new skills about how to take care of the trach. I was receiving an albuterol breathing treatment every 6 hours around the clock (even at night). They were changing the gauze pad around my trach twice a day and the strap around my neck every other day. I also periodically needed my trach suctioned out with a catheter to clear congestion. So the respiratory therapist started giving my dad training sessions on how to do that.
The most complicated part is to suction the trach. The catheter comes in a little kit with its own pair of sterile latex gloves. These are not the kind of traditional latex gloves they pull out-of-the-box when dealing with you in the hospital. These are carefully wrapped in a paper envelope and are 100% sterile. Of course my dad has very large hands and even though the gloves will stretch to any size, it's very difficult for him to put them on. They insist that you only touched the gloves by the cuff. One of your hands is considered the "clean hand" and the other is your "dirty hand". You aren't allowed to touch anything but the catheter itself with your clean hand.
This day was just the first of several training sessions they gave my dad. It wasn't until the last day when we were talking to one of the nurses and she admitted "You realize, when you get home you probably aren't going to go through all of that. As long as you don't touch the end of the catheter and you keep it clean going in, you don't need to worry about gloves or clean hand/dirty hand issues." Dad and I looked at each other like "Then why the fuck did we have to go through all of that here?" The catheter kits supplied by my DME provider don't include the sterile gloves and we never use even nonsterile gloves except when actually changing the trach itself. Although it took a bit of attitude adjustment on my part, I eventually trained friends and family how to do a trach suction. But that's another story.
Miscellaneous Events
Carol came to visit that evening and gave dad a break. I told her the whole story of my arguments over what to do about humidity. The other thing that happened was we finally got the call from Home Health Depot to set up an in-home visit. That was part of the lengthy process we needed to get approved for an in-home ventilator. They set up an appointment to come to the house at 1:30 the next afternoon. Dad waited around on them and did not come until later in the day on Wednesday. This Facebook post shares my thoughts on all of the stuff we had to go through to get certified for the ventilator. [12/20/2016 9:51 AM

]
While I normally would not confess to illegal activity in a public blog, I will admit here that I downloaded a bootleg copy of "Rogue One: A Star Wars Story". I never missed seeing any of the Star Wars movies since the first one. Most of them I've seen in a theater multiple times and that doesn't include dozens of viewings on cable or DVD. I always go with my friends Rich and Kathy Logan. We saw the first one together. We went back and saw it again a year later for a one year anniversary. And I've seen every other episode with them. But when they visited over the weekend I told them they needed to go ahead and see Rogue One without me even though it really hurt to admit I wasn't going to get to see it in theaters. The copy I watched was a really bad camera copy with bad audio. Not the best way to see a big action-adventure movie. In my defense, I did eventually purchase a 3D Blu-ray and I watched it as well on cable that I paid for legitimately. Under the circumstances I don't feel bad about indulging myself under these conditions. Wednesday would be a day of more legitimate online activities. We will cover that in the next installment.