This is the fourth in a multi-part blog about my 2 week stay at St. Vincent Seton Specialty Hospital. Here is an index to all of the entries in this series.
Recap
In December 2016 I spent nearly the entire month in the hospital with respiratory problems. I chronicled the first 10 days or so of St. Vincent Hospital ICU in a series of blog posts titled "Pray That They Listen to the Man with No Voice". The remaining two weeks were spent in a different hospital called St. Vincent Seton Specialty Hospital where I stayed through Christmas. I'm calling this second series "Holiday Hospital"
I didn't get around to starting to write about those additional two weeks until over six months later in July 2017. I wrote 2 installments in July and then a third one in September but never got back to it until now April 2018. Even though it was well after a year since these events occurred, I do have some notes about what happened each day and I will have links to Facebook posts and videos that I made at the time. Who knows if I will finish it this time or I will take another couple months off. But anyway here goes. The link at the top of this page takes you to a table of contents for this entire series. Note: anywhere you see the little Facebook icons it will link you to a Facebook message I wrote at that date and time.
An Uneventful Weekend
We are now up to Saturday, December 17. I had been having a lot of problems with congestion and one of the things they had been doing supposedly to help it was giving me some sort of medicated patch to wear. I forget the name of it but it was supposed to help with my congestion. We concluded that perhaps it was making the congestion too thick so we decided to discontinue it and see if that helped. It really did. My lungs were much better without the patch. [12/17/2016 6:50 AM

]
Dad brought in my electric razor and he shaved me for the first time since I had moved to this facility. I had shaved once before in the ICU so this was only the second shave in about 10 days. I had developed a rash on my neck from not shaving, being sweaty, and having a trach collar around my neck. They brought in a roll of medically treated cloth in a little box that looked like a wax paper roll. The cloth is white, stretchy and had a bit of a sheen to it almost like a silk cloth. It was treated with some sort of silver solution. It was designed to wick away your sweat from creases like around my fat neck. It really worked well to clear up the rash over the next day or two. I took home the leftover material when I checked out and I've used it once or twice since then. It's really good stuff.
Typically dad was arriving late morning and staying till about dinnertime when he would go home before dark and Carol would come and visit me in the evening. It was always handy to have a family member there who could make sure that I was laying comfortably and had my call button in my hand. They could do things for me so I didn't need to bother the nurses or aides. But there was supposed to be an ice storm coming in and Carol canceled her visit. That was okay. By now I was settled in to my environment a little better than I had been originally. I also told dad not to come on Sunday because the roads would be terrible. [12/17/2016 6:34 PM

]
Sunday the 18th was mostly an uneventful day for me. My lungs were in good shape when I woke up however I did have some hip pain so I took a pain pill. Lying in bed so much and trying to set up in bed without my back brace on was messing things up for me. Dad came to visit despite the nasty weather. Not much goes on in the hospital on the weekend. [12/18/2016 8:27 AM

]
I did not sleep very well the night before but I was able to catch a nap along the way. I watched the Colts win their game but unfortunately Tennessee also won which made our playoff hopes much diminished. Dad brought with him the latest 3D printed parts for my nurse call button and they worked really well. I posted a photo of them on Facebook. [12/18/2016 4:08 PM

] [12/18/2016 6:58 PM

]
I said it was uneventful for me but from a news standpoint it was an eventful day. I was saddened to hear of the passing of former Indianapolis Mayor William Hudnut. He was a great Mayor who did a lot of good things for the city especially negotiating the transfer of the Colts NFL team here from Baltimore. He continued the work of former mayor Richard Lugar in maintaining a Mayor's Advisory Council on the Handicapped. I was honored by him to be awarded with "Indianapolis' Outstanding Handicapped Citizen Award". Here's a photo I posted on Facebook remembering him. Behind me left to right is the mayor, my mom, my grandma Osterman, my Aunt Jody Roell, and my dad. [12/18/2016 10:59 AM

]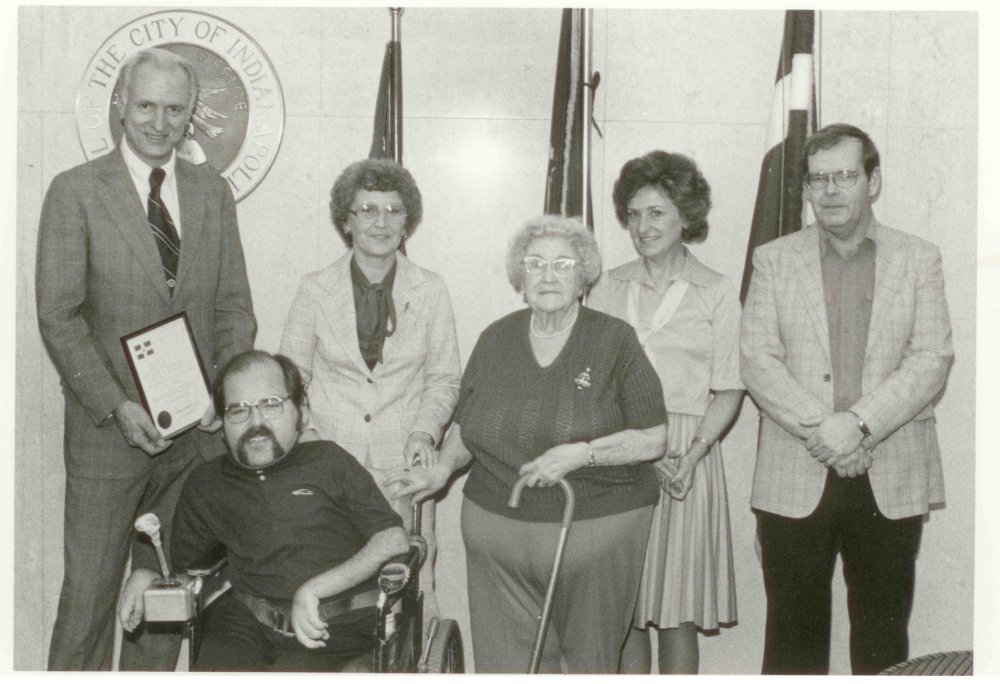 One of the nice things about having good Wi-Fi in the hospital and having my laptop was that I was able to catch up on some online streaming TV shows. I got on Netflix and finished up watching Luke Cage that day. I thought the whole series started off a little slow because as an old white guy I had trouble getting into the Harlem aspects of the story. But once it got deeper into his origin story and became more of a superhero story and not just an inner-city gangster story I ended up really liking it a lot. I didn't have any problem with the black urban portions of the story. I just had trouble relating to it.