This is the third in a multi-part blog about my 2 week stay at St. Vincent Seton Specialty Hospital. Here is an index to all of the entries in this series.
Where did we leave off?
It's been quite a while since my previous installment because I had a major computer crash that took a week or so to recover. Then I got distracted with other things. We are now up to Friday, December 16 which is the first weekend that I spent in Seton Specialty Hospital. I had a bit of a rough night the night before. Here was my early morning Facebook post at 8:17 a.m.

The plans for Friday were to try to get me sitting up in the wheelchair. Dad brought my wheelchair with him that morning because the physical therapist said I should be getting up. It turns out the therapists were pretty busy that day and they decided they couldn't help. Dad didn't really need much of any help getting me dressed and in the chair except that we didn't have any experience operating their patient lift equipment. As it turned out since I had had a kind of rough night the night before I decided to just stay in bed and we would get me in the wheelchair on Monday when the therapists could help us. Here is another Facebook post from later in the day at 5:06 p.m.

My friends Rich and Kathy Logan were planning to come by to visit me that evening. I had Rich bring me a print out of my communication board because I had a quick update I wanted to get and I didn't want to wait until dad came the next day. But before they came, I kept myself busy throughout the day working on a 3D printing project.
Remote 3D Printing
Although my specialized nurse call button was working okay at the new hospital, my hand holding that button wasn't doing as well. At one point a few years ago I thought I had glued a metal ring on the side of it that I would stick my finger into that would help me hold that in the proper position. Somewhere along the way I lost the metal ring. It's extremely difficult to get the button positioned exactly the way I needed it. Anytime someone moved me or had to take the button away and put it back it was always difficult to get it put back in exactly the right position. Rather than trying to have my dad come up with a new piece of metal to glue onto the side of the switch, it was going to be easier to design and 3D print a new piece.
I do all my 3D modeling in a program called Blender 3D. That program isn't specifically designed for 3D printing. It's used mostly for rendering and creating video games and doing photorealistic 3D models similar to what I create in POV-Ray. It's free and open source and rather than learn one CAD program for rendering and another one for 3D printing I decided to just stick with Blender back when I first got my 3D printer. So I downloaded a copy onto my laptop and begin designing a little ring that would fit on the side of the nurse call button. Once I had a prototype designed, I transferred it from my laptop to my desktop at home using Team Viewer file transfer features. I told dad when he got home that he should turn on the 3D printer. I would type messages to him on the screen of my desktop and I would initiate the 3D print. I have a WebCam pointed at the 3D printer so I could remotely monitor the progress of the print.
For many months I've had difficulty getting parts to reliably stick to the build plate. However just prior to going to the hospital I had installed a new Zebra Plate build plate on the printer that had been working wonderfully. It worked beautifully again when I was printing the part. I printed the part Friday night and dad brought it in Saturday morning. It turned out that I needed to put a little twist in the model so that the switch would be in the proper position. I actually printed 2 different versions at different angles but even the one with the greatest twist wasn't quite enough. I printed a third version Saturday night and dad brought it in Sunday morning. The final version worked just fine. Here is a screen grab showing the part that I modeled in Blender 3D. It illustrates 2 different versions with a slightly different angle on the slot that fits onto the original switch.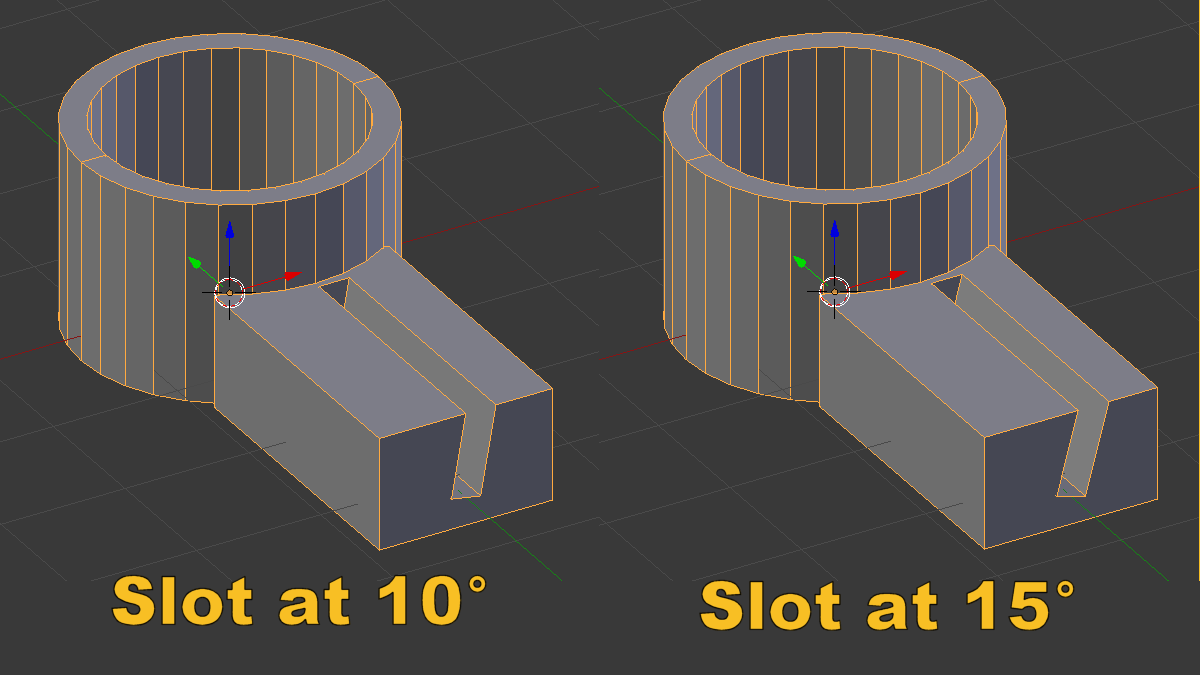 Here are some photos of the final part attached to my nurse call button. The 3D printed part is in green plastic.
The use of a closed ring to put my finger through worked so well that when I got home I redesigned the way I use my pushbutton switches on my iPhone and my bedroom IR remote/alarm button. Prior to this, I had a 3D printed part that help to position the buttons my hand but they were just a couple notches to position my fingers. After my experience with the closed ring, I redid the part on my iPhone and remote switches to completely enclose one of the rings around my finger. I tried using 2 rings. I tried the ring around the index finger. But ultimately it works best with only one ring around my middle finger and just a notch for my index finger. Here are some photos that show the old and new versions of that switch. And some photos of it in use. A friend of mine from Facebook once described this as a Doctor Strange "sling ring". It really made me mad when he said that. I wasn't offended. I was mad that I didn't think of the name first 🙂
Although this revised system worked fairly well throughout the rest of my stay at Seton, the way that the wire comes off of the switch would often get in the way of my wrist or my forearm. After I got home from the hospital I decided I would take the switch apart. And I would change the way the wire extends from the switch. I would redesign the ring. As I am writing this blog I'm also working on a new 3D printed part for the hospital call button. It will look more like the ones I use on my remote at home in that it will have a middle finger ring and a first finger notch. As I mentioned above, I could not hold both the call button and my remote buttons at the same time. Ultimately I hope to be able to resolve that problem as well for the next time I am in the hospital.
Having a Prophet for a Friend
That evening I was visited by my great friends Rich and Kathy Logan. I've known them since my college days and I was the best man at their wedding years ago. I took the opportunity to tell the story of everything that had happened while I was in St. Vincent's Hospital getting the trach. They had visited me at St. Vincent but I was unable to talk during those visits so I had lots of stories to tell them. Basically they got a condensed version of my entire 14 part blog where I wrote about the St. Vincent stay.
When you lay around the hospital for days and you contemplate the friendships you have and legacy that you have built, you tend to think of things that had been left unsaid. While there really wasn't anything significant unsaid between me and the Logans, there was one story I have been meaning to tell them for a long time and had not gotten around to it.
When I teach religion classes for the RCIA program at St. Gabriel, I teach a class about the Old Testament prophets. Normally you think of a prophet is a person who predicts the future. But that really isn't the primary role of a prophet. Prophets are actually spokespersons for God. I described them as similar to the White House Press Secretary. Of course I used to use that example when we had decent people in that job. I would hate to equate a prophet of God with someone like Sean Spicer 🙂 Instead think of C.J.Cregg from The West Wing. But not only are prophets spokespersons for God, specifically their role is to call us back to God when we go astray. To remind us of our core principles when we tend to forget them ourselves. Typically a prophet says if you don't shape up, things will go bad for you and if you do shape up things will go well for you. Whichever happens… their prophecy tends to come true.
As examples in my class I cite people like Abraham Lincoln whose Gettysburg address was a prophetic message that reminded us what we were fighting for in the Civil War. I also include people like JFK with his "Ask not what your country can do for you… Ask what you can do for your country". Similarly prophets are dreamers. People who dream about what the world would be like if we would stick to our core principles. The primary example of course is Martin Luther King Jr. and his "I have a dream" address.
But I also give biblical examples of prophets who are personal friends. My favorite story is the story of Nathan who is a prophet to King David and who called him out when he killed one of his generals Uriah to cover up the fact that he was sleeping with Uriah's wife Bathsheba. I tell the class sometimes our friends are prophets for us who call us back to be the best versions of ourselves. To be the people that they know we can be. To be the people who made them want to be our friends in the first place. I explained that true friends are the people who can lovingly look us in the eye and say "You fucked up but I love you anyway. Now get your god damn shit together."
Of course I don't use that kind of language teaching the class… But you get the point.
So I told Rich and Kathy that when I teach that part of the class, they are among the friends I think of who are my prophets and to whom occasionally I have been a prophet. I explained that what I cherish most about our friendship was our ability to lovingly point out when we were being a real dick about something. I also confessed to them that I had not always exercised my role as a prophet to them out of the purest of motives. Sometimes I had been a bit self-serving in my role as a prophet and that was something which I regretted.
It wasn't exactly a deathbed confession and I made it clear that it wasn't. But it was nice to take the opportunity to thank them for being prophets for me and to say that I haven't always been the purest of prophet for them even though I tried to be.
There is a parable about a guy who goes to heaven and asked Jesus "What in your opinion was the worst sin that I ever confessed?" Jesus replied "Once you had confessed your sin, I didn't remember it anymore. So I can't answer that." Like the true friends that they are, the Logan's didn't recall the incidents that I had recounted until I recounted them.
Scripture says "Faithful friends are life-saving medicine…" Sirach 6:16
I have no doubt that they and other faithful friends had been life-saving medicine for me.
The next installment in this series is not the next blog post. You can skip a couple of posts and picked up with the next installment by clicking here "An Uneventful Weekend — Holiday Hospital part 4"