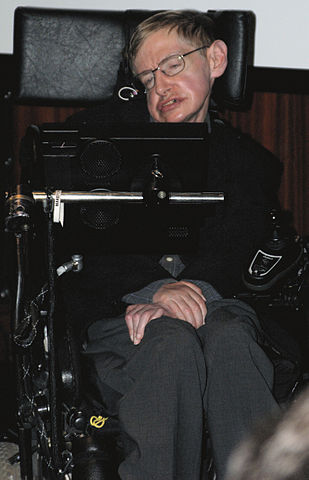 I have to share my thoughts on the passing of Stephen Hawking. The renowned physicist and pop culture icon who expanded our boundaries of knowledge of the nature of the universe did so while fighting a lifelong battle with ALS motor neuron disease. His iconic electronic voice is the most famous piece of assistive technology for the disabled ever created. He passed away today March 14, 2018.
I was born with a genetic neuromuscular disease known as Spinal Muscular Atrophy type 2. Like Hawking's disease ALS, my own disease SMA affects the motor neurons. Also like Hawking, I've had a lifelong passion for science. I've always been a curious person but that curiosity was given an outlet somewhere around fourth or fifth grade when I discovered science. I have a logical mind and it was obvious that scientific pursuits were within my grasp despite my own physical disability.
It might seem obvious that Stephen Hawking would be a hero and a role model for me but I was not always anxious to embrace role models. He earned that title with much difficulty. Let me explain.
With my passion for science and intellectual pursuits, I was especially fascinated by stories I heard about Albert Einstein. He passed away in 1955 just a few months before I was born but I knew that he was considered by consensus "The Smartest Man in the World". In fact the name Einstein has become a synonym for genius. For example "Smartass! Do you think you are some sort of damned Einstein?"
I learned that not only was Einstein considered The Smartest Man in the World, he was actually a kind of a celebrity and pop cultural icon. He was the intellectual equivalent of a rock star in an era before rock 'n' roll.
In some ways I felt cheated that I was living in a time that did not have an obvious successor for both the roles of Smartest Man in the World and intellectual pop culture icon. While scientists such as Carl Sagan, of whom I was a great fan, achieved celebrity status and he was a man of great intellect, he did not rise to the level of Einstein as a renowned genius. I always felt there should've been some sort of committee to decide who was Smartest Man in the World. Oh sure they give out Nobel prizes in physics, chemistry etc. but even those people typically only occupied the news cycle for a few seconds after winning their awards. There was no heir apparent to Einstein and it didn't seem to bother anybody except me.
I can't say for sure when I first became aware of Stephen Hawking. But he immediately became a hero for me. Not only was he fast approaching (and eventually reached) the status of consensually the Smartest Man in the World, the fact that he did so with a severe disability was an added bonus for me. In more recent years he definitely has become the intellectual pop culture icon for which I longed. Others agree with me that he was as iconic as Einstein. In Hawking's New York Times obituary it says:
"Not since Albert Einstein has a scientist so captured the public imagination and endeared himself to tens of millions of people around the world," Michio Kaku, a professor of theoretical physics at the City University of New York, said in an interview.
It is speculation on my part because I did not experience the Einsteinian era myself but I would say he fulfilled that pop-culture role even more than Einstein himself. Not only was Hawking a best-selling author and the subject of multiple documentaries and dramatic biopics, he had cameo parts in TV shows such as The Simpsons, Star Trek: The Next Generation, and The Big Bang Theory. The latter of those might never have even had a title were it not for Hawking. His electronic voice is much impersonated by standup comedians. Although the times are different, I really don't think Einstein achieved those levels of celebrity.
For some bizarre reason, most of my life I've not really found myself in need of an inspirational role model. I looked at other famous people with disabilities with a bit of cynicism. In my autobiographical magazine article "The Reunion" I told the story of a group discussion we had in my high school years in the early 70s where I expressed my cynicism about such role models.
"You hear all these stories about the 'Super-Cripple' types who make it in the world and are successful and are supposed to be our role models," I said. "But I'm not FDR or Stevie Wonder or that girl from 'The Other Side of the Mountain.' Where did they get that strength? How did they overcome their handicaps? What do I do to tap into their magic that lets them cope or achieve or be somebody?"

Nobody could tell me.

And I then realized that nothing magic was going to happen. The way to do it was to just do it. Just be. There's no magic.
I've also felt frustrated by such super cripples. I've often stated in conversations that when I was very young, all a kid with a disability had to do to get publicity was sit in a wheelchair and look cute. I had been a bit of a poster boy for United Way when I was 10 years old and for Goodwill Industries also at around that age. I have been the subject of TV news items and newspaper articles in the early 80s when I designed a special piece of communication software called VersaScan for my friend Christopher Lee who had severe cerebral palsy. The idea of a disabled software engineer developing something for another disabled person made for a unique human interest story.
But as the years rolled on, it became more and more difficult to mine publicity coins. There were paraplegic mountain climbers. Wheelchair users were an everyday part of marathon races. Paralympics and Special Olympics are well known and well covered institutions. When I was young there was no Make-A-Wish Foundation yet these days they have a monopoly on the "sit in a wheelchair and be cute" phenomena. Perhaps no one raised the publicity bar higher than NPR journalist John Hockenberry who was a paraplegic war correspondent in Afghanistan. I have been known to say jokingly "How the hell does the ordinary gimp get any ink these days an atmosphere like that?" Yet that joke thinly hides my jealousy and cynicism. I do consider people like Hockenberry a bit of a hero. I admire him for his accomplishments. But I never considered him or other disabled people of note to be role models. I never sought to pattern my life after them or draw strength from them.
Yet somehow, whether I felt I needed it or not, Stephen Hawking became not only a person whom I admired for his accomplishments, he truly became an important role model for me.
Sometime around 1995 I watched a documentary about Hawking. It gave me insights into the thought processes he uses to develop his hypotheses and theories. Because he's physically unable to write out long equations on chalkboards, windows (like the beautiful minds do) or even with paper and pencil, he uses the strategy of visualizing the graphic representations of the equations in his mind. Those visualization techniques have given him insights into those equations that had escaped other physicists. In other words, his physical limitations were in fact an asset that made him a more insightful physicist than his peers.
This whole concept of a disability as a gift or an asset was a concept that was developing in me. I had a growing sense that in my own life, my perspective, my insights, my ability to contribute to society in my own unique ways had been enhanced by my lifelong disability. I won an award for my autobiographical magazine article "The Reunion". It was voted by the Indiana Chapter of the Society of Professional Journalists Sigma Delta Chi as a "The Best Magazine Feature" in the state of Indiana in 1987. My simple story about coming of age with a disability was considered more newsworthy (or at least better written) than stories about famous AIDS patient Ryan White or the crash of a military jet into an Indianapolis airport hotel. Understanding that Hawking had similarly turned his disability to his advantage was a conformational data point to prove my hypothesis that having a disability wasn't all bad.
Very shortly after seeing that documentary on Hawking, I found myself in the hospital with a severe case of pneumonia. Although I had wrestled my entire life with a shortened life expectancy and had often found myself obsessed with a fear of death, this particular incident was probably the first time I had felt I was imminently in peril. The doctors discussed with me the real possibility that I could end up on a ventilator. They noted that while it was intended as a temporary solution until I got over the pneumonia, there was a possibility that once I was on the ventilator I might not come off. At that point they started having those difficult discussions about what level of care you want. Living wills and "do not resuscitate" orders are discussed.
With my fear of death only barely under control to the point where I could live my life without obsessing over it, my natural reaction was of course to say that I wanted everything possible to keep me alive. But that standard response now had a new justification. I could say to myself and to others that if someone like Stephen Hawking could lead a productive life while on a ventilator then perhaps I could as well.
For the first time I was able to look at someone as a true role model and say "If they can do it… then so can I!" Previously I had mistakenly thought of a role model as someone whom I should attempt to equal in their accomplishments. Realizing that I could not be that person, I had rejected the whole concept of role models. What Stephen Hawking taught me was that a role model is not someone whom we should try to equal or surpass. Role models are people who empower us to be the best versions of ourselves.
This brings up the whole topic of "inspiration". There is a trend these days among many people with disabilities to boldly and militantly declare "My purpose in life is not to inspire you!" I can understand the roots of this complaint and I partially agree with it. I think the problem is when someone says "you are an inspiration to me because of your disability" it often comes from a place of pity. People don't necessarily understand that it comes from pity. They don't intend for it to be. And even when it does not come from pity, it is often perceived that way by the disabled person. Not only does pity play a role in this equation… There is also an undercurrent of guilt at play. People are made to feel guilty for their good fortune. When they admire or are inspired by someone with a disability it often comes from misplaced guilt that they are healthy. There is also a sense that they underestimate their own ability to deal with such a challenge should they ever be unfortunate enough to end up with a disability of their own. I try to remind people that they underestimate their own capabilities when they feel that way.
When we hear that we are "an inspiration" it often comes across as a bit condescending. What we hear is "Oh look at the poor little handicapped kid. Isn't it special that he even gets out of the house." It's a bit ironic and admittedly hypocritical that I lament the passing of the days when "sitting in a wheelchair and being cute" was sufficient to get publicity yet I decry the condescending attitude behind that faint praise.
It is the goal of every disabled person to be as normal as possible. So to be praised in a way that implies our disability, in and of itself, is a source of "inspiration" is easily rejected by us. We want to be known for our accomplishments and our abilities and not for our disability. So I sympathize with the philosophy of "I don't exist to inspire you".
On the other hand, in admitting that someone like Stephen Hawking is a legitimate role model and having a deeper understanding of the true purpose of a role model, I no longer tend to reject it when people say I am an inspiration to them. I don't mind seeing myself as a role model. When people express feelings of admiration or inspiration attributed to Stephen Hawking, it doesn't come out of a sense of "oh the poor guy in a wheelchair I feel so sorry for him". He is admired and respected for his accomplishments in the disability is only one facet of that admiration.
It has been encouraging to me the way that people with disabilities have been recently portrayed on reality competition shows such as American Idol and Dancing with the Stars. While the judges of those events do tend to overuse the word "inspiration" in their commentary on these disabled contestants, they do also make it clear that they are forced to judge the person on their talent. They make sincere efforts not to be swayed by the disability or other inspirational natures of their personal stories.
So while I agree that I don't exist solely to be your inspiration, if I do inspire you by my accomplishments then I have no difficulty with that. My evolution of attitude in this area is thanks to the inspiration of my role model Stephen Hawking.
One of the other interesting stories from that documentary in the mid-1990s had to do with Hawking's position at Cambridge University. He told the story that there is an old ledger that has been signed by every member of the faculty of that institution. In 1997 he was appointed to the Lucasian chair of mathematics at Cambridge. It is a post once held by Isaac Newton. Someone realized he had never signed the ledger. So with great difficulty they placed a pen in his hand and he signed his name to that ledger recognizing himself as one of the legitimate successors of Isaac Newton. He then calmly stated "It was the last time I ever signed my own name to any document."
I was in awe of that story. It brought tears to my eyes that the last time he signed his name was in such a momentous and meaningful way. I remember lying in the hospital in 1995 telling that story to my friend Judy. I wondered what would be the last time I was ever able to sign my name by myself. I already did it rarely. She speculated perhaps I would someday sign my marriage certificate to the love of my life. Perhaps that would be a fitting and momentous final signature.
That brings us to another way in which I admired Stephen Hawking who was married and had three children. I had long recognized that the odds of me finding a wife or being able to have a family and children would be quite a long shot. It led me to a mistaken belief that any time a woman took any interest in me, I had to do everything possible to try to direct that relationship into a romance that would someday lead to a happily ever after ending. It took me some time to appreciate that this wasn't a good strategy. I eventually learned to focus my energy on building strong and meaningful friendships that would be fulfilling lifelong relationships even if they were not romantic or marital. My successful relationship with Judy is a testament to the success of that strategy.
But as I stated before, the goal of most disabled people is to be as normal as possible and so I admired Hawking for having a wife and children despite his disability. Although extramarital affairs, divorce, and remarriage are not typically thought of as admirable or praiseworthy, they are in fact very much normal. So when I heard that he divorced his wife Jane in 1995 and married his caregiver nurse Elaine, I had to give him an "attaboy" for doing such a "normal" thing. He later divorced his second wife in 2006. He maintained a friendly relationship with his first wife, his children and grandchildren. His first wife's memoir "Travelling to Infinity: My Life with Stephen" appeared in 2007, and was made into the Oscar-nominated film "The Theory of Everything" in 2014. It won the BAFTA award for Best British Film and Eddie Redmayne won best actor Oscar for his portrayal of Hawking.
As it turned out, the last time I ever signed my name was not on a marriage certificate. Instead it was a few years ago when I signed some legal documents establishing a special needs trust that hopefully will provide some financial assistance in the event of my father's passing. I also signed power of attorney and designated medical representative authority to my dad. It includes an advanced life directive that indicates I want everything possible to keep me alive as long as I have mental capacity of some sort.
I've already mentioned there are similarities between Hawking's disease ALS and my disease SMA. The parallels in our medical conditions became deeper 15 months ago when I ended up in the hospital again with severe respiratory problems. This resulted in me needing to have a tracheostomy and spending several days on a ventilator unable to speak. I found myself wishing that I had Hawking's electronic voice. The inability to speak over several days was clearly the most difficult challenge I had faced in my over 60 years as a disabled person. I chronicled those events in my essay "Pray That They Listen to the Man with No Voice". I still use a ventilator at night and have struggled to adapt ways to communicate while on the vent. I'm exploring various communication techniques such as open source speaking software known as CoughDrop and other assistive technology solutions.
I had not done much work in the area of assistive technology since my work in the early 1980s on VersaScan. However since that hospitalization a year ago last December, I've focused a great deal of my efforts on developing assistive technology not only for myself but for others. My efforts in the field of assistive technology have motivated others to take up the cause of open source solutions for the disabled. Many have said that my work in this field has been an "inspiration" to them to take up the cause of assistive technology as well. I have no problem with this. Again this is related to my concept of my disability as an asset. There are more talented engineers and programmers then I am working in the field. But they don't have the perspective that I have as an actually user of the technology. I bring insights to the discussion that no other contributor can provide.
Stephen Hawking is yet again a role model and inspiration in this area. His iconic electronic voice is the most famous piece of assistive technology ever created. As technology has evolved, speech generation has improved to the point where the voices of Siri, Alexa, and other digital persona are every day experiences. Hawking resisted the opportunity to upgrade is rather robotic electronic digital voice to a more natural sounding one. He said that the outdated technology of his speech generation equipment had become so closely identified as "his voice" that he could not imagine changing it. To me this illustrates the intimate relationship that disabled people have with their assistive technology. It truly becomes a part of them. It's one of the main reasons that my former software company was called "Cyborg Software Systems" and that I still go by the online handle of "cyborg5". My relationship with my assistive technology is so intimate that it becomes part of me in the way that the mechanical aspects of the cyborg are united with its biological aspects.
I mourn the loss today of my hero and role model Prof. Stephen Hawking. But I really don't feel very sad. He truly deserves the cliché description of "a life well lived". Having been told in his 20s that he only had a few years to live, he worked his ass off to contribute something to the world and in the end proved the experts wrong by reaching the ripe old age of 76. I too was told I would not live very long but at age 62, I'm similarly proving the experts wrong.
This brings to mind the famous Vulcan salutation "Live long and prosper." Certainly Stephen Hawking did so and the universe is a better place because he did.
Links of interest.