In 1994, I wrote an article that appeared in Indianapolis Monthly Magazine about the first time I went to the Indy 500. I've been a lifelong race fan and had been going to the track for years but did not actually attend the race until 1993 when they built a new wheelchair-accessible grandstand that made it easy for me to attend.
A few years later when the Internet became a thing, I posted a longer version of that story on my website accompanied by several pictures I had taken that day. One of them was of actor Eric Braeden riding by in a pace car along with a parade of other celebrities. Here is the photo I posted with the online version of my article.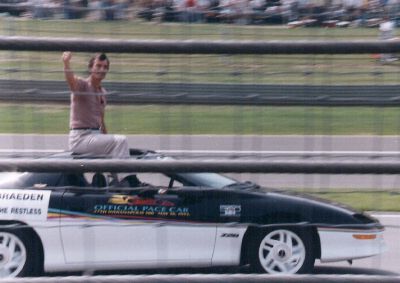 If you clicked on the photo, it took you to a page titled Dr. Forbin I Presume? showing a photo with the following text.
Here actor Eric Braeden speeds by in a pace car during pre-race festivities. He played a computer science genius, Dr. Forbin, in one of my favorite cheesy sci-fi thrillers Colossus: The Forbin Project and he played the German Field Marshall in the '60s TV series The Rat Patrol.

He is however more widely known as the rich and powerful Victor Newman in the soap opera The Young and the Restless. (Which I'm embarrassed to say, I watch every day.) But part of me still thinks of him as Dr. Forbin.
The article was up for maybe two or three years before I got my first email in regards to the article. The first one was in reference to what I said about the TV show "The Rat Patrol". It was a World War II action show that ran for 56 episodes from 1966-1968. The email was from a self-proclaimed expert on Nazi uniforms who explained to me that the character was not a Field Marshal but in fact a captain. It included a detailed explanation of the various patches and ornaments on his uniform. A simple search to IMDb also provided information that the character was called "Capt. Hans Dietrich" but I think the guy just wanted to show off how much he knew about Nazis like that was something one would brag about.
Sometime later, I got another email from a guy who had done a search on the 1970 movie Colossus: The Forbin Project. This was in the days before Wikipedia and possibly for Google. I don't know what search engine people were using but the guy had done a search on the movie and found my website. He had watched a movie late at night on some TV channel and had fallen asleep before it ended. I had said it was one of my favorite cheesy sci-fi thrillers that he wanted me to tell him how the movie ended. I obliged but I won't spoil it here except to say it didn't have much of an ending.
This was in the early days of the Internet. Today's someone searching for information about the actor would never get to my old, hand-coded HTML webpage. That page still exists here: https://cyborg5.com/hcp/500/newman.htm. I did a Google search on the exact phrase "Dr. Forbin I Presume" which is the title of that webpage. Google couldn't find it.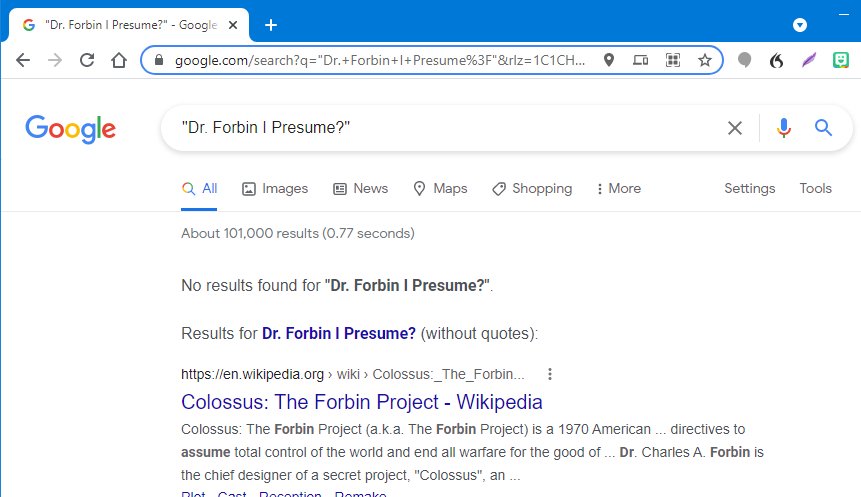 I don't know what year I got those emails but those early days of the Internet when you could put up a tiny little handmade webpage and have people find you by thankfully long gone. Much more restorative sources exist than me.
You might wonder why tell the story now? I'm working on another installment of my Author's Journal blog series and I was updating that old handwritten HTML version of the story to a WordPress page. I decided to create this blog post as a sidebar.