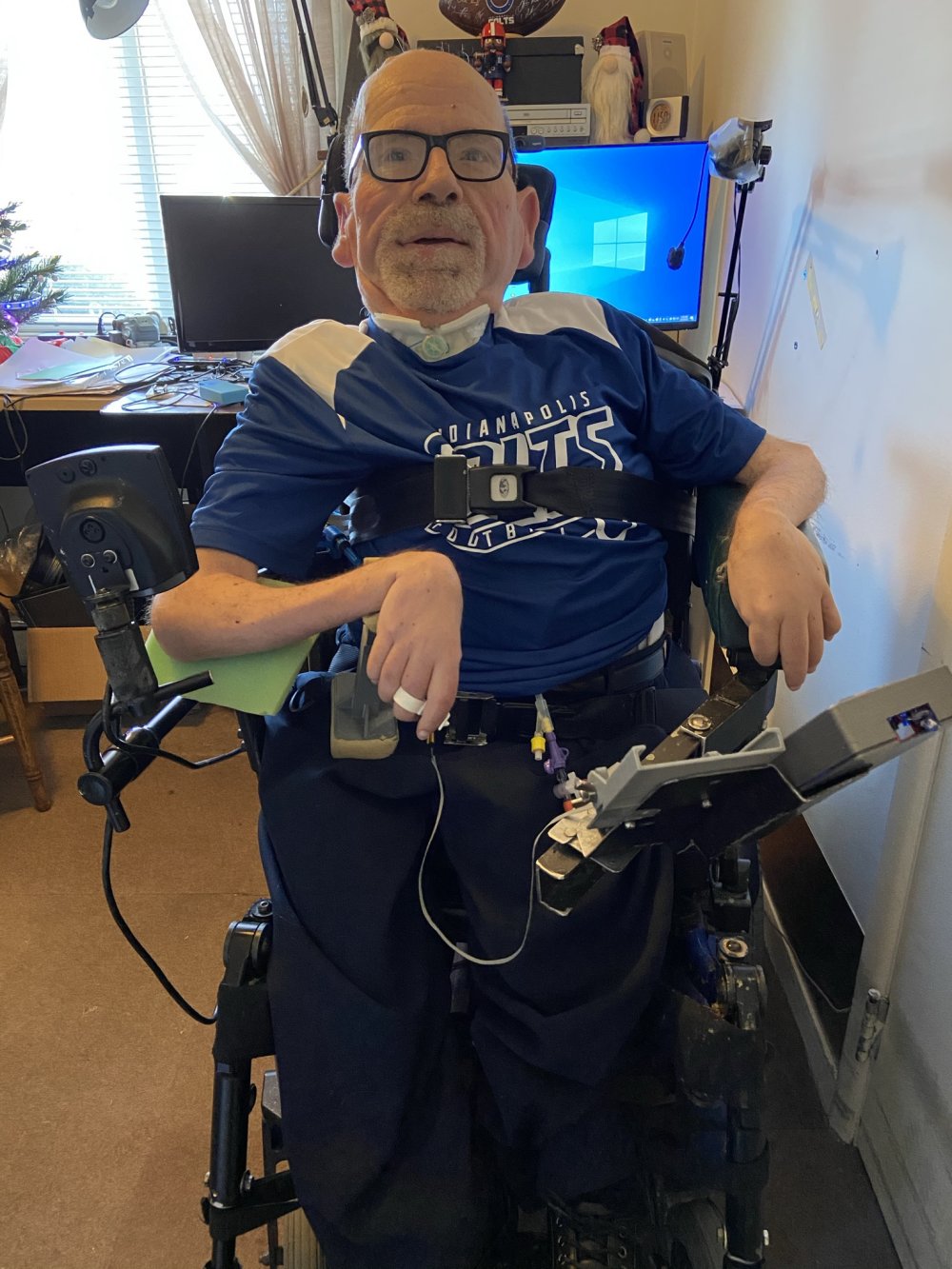 I'm looking for at least one possibly two new roommates/caregivers. Although most of the people who read this blog post already know things about me. I'm going to start from the beginning and assume you know nothing because I want friends and family to be able to forward this post to as many people as possible whether they know me or not.
Who is Chris Young? And why does he need a roommate?
Hi, I'm Chris Young. That's my photo on the left. I'm 65 years old (will be 66 in July 2021) I have a genetic neuromuscular disease similar to muscle dystrophy. It's called Spinal Muscular Atrophy. You can read more about it here. I lived in the same house on the northwest side of Indianapolis in the Eagledale area just north of Speedway ever since I was three years old. My parents took care of me their whole life. We lost my mom 12 years ago and my dad two years ago. When my dad was ill, my sister Carol moved in to help take care of both of us but she needed to move on with her life so I began looking for a new roommate who could help be a caregiver.
My dear friend Barb Alkema and her adult son Josh moved in here in May 2019. They have been a great blessing in my life and have taken good care of me. But things change and situations evolve and it's now clear that Barb needs to move on to new adventures. Her own health is questionable and she doesn't want to get to the point where she gets incapable of taking care of me suddenly. Also, her boyfriend Ed who lives in Toledo is facing some challenges of his own and she feels she would be better suited to caring for him. I can't blame her. She's given me two good years of her life that has been a great blessing and I wish her, Josh and Ed well.
Barb and Josh will be leaving in a couple of months and my sister Carol will return to help me transition to whatever kind of care I will be getting next. I'm hopeful that I can recruit someone who would live here and help take care of me the way Barb has done the past two years. Carol can help out for a while but that is not a permanent solution to my problem. If I don't find a long-term solution of someone else who can move in here, then I will have to choose a skilled nursing facility.
A couple of years ago I took a tour of one in Greenwood and it looks like it's a pretty nice place. It's clean, doesn't smell, and there are other people there like me that I can associate with. I wouldn't be stuck in the same wing with a bunch of Alzheimer's patients who didn't know what was going on around them. The room is small and I would have to share it with someone so it would really be a huge change for me. Obviously, I would like to stay in my own home as long as possible.
What Kind of Care Do I Need?
I need someone to be with me 24/7. It's not safe for me to be alone at any time. I have a trach that helps me breathe and when my lungs get congested we suction out my trach with a suction catheter. I have a G-tube that I use for all my nutrition. I don't eat anything by mouth (except when I cheat on special occasions). The problem is that my throat muscles are very weak and I have difficulty swallowing. If food or liquid gets into my lungs I'm in deep trouble. I also have a suprapubic catheter connected to a leg bag for urine.
I have a home health aide that comes in every morning at 9 AM to get me a bed bath, dressed, put on my back brace, and get me into my wheelchair. Throughout the day I need someone who can suction the trach as needed, do my G-tube feedings three times a day, and assist me with other minor tasks. Sometimes my back brace needs a little adjustment (a strap looser or tighter). Barb has been taking care of me during the day and she can put me to bed at night using a Hoyer patient lift. She has some medical issues of her own and it's easier to get me to bed and disassemble me than it is to assemble me in the morning and get me up. Because of regulations, my home health aides are not permitted to do G-tube feedings, trach suctioning, and they are not permitted to be alone with me in case I need suctioning.
At night I use a ventilator. I'm not really dependent upon the ventilator for breathing. I just use it like a CPAP or BiPAP to help me sleep but you can't use an ordinary CPAP/BiPAP when you have a trach.
Although the job of taking care of me is basically 24/7, I also have a respite nurse who comes for four and 1/2 hours twice a week. I could probably qualify for as much as 15 hours per week of respite nursing. Barb has been using that time to run errands, go to the gym (pre-pandemic), and go to doctor appointments. Some days she just goes out and takes a walk in the park while the respite nurse is here. Currently, she is scheduled for 9:30 AM-3 PM. on Tuesdays and Thursdays. We can reschedule those hours at different times if we have lots of advance notice. For example, when Carol moves back here we will move my respite hours to evenings or weekends. One of the problems with respite nursing is it works best when it's on a regular schedule. So we can't just arbitrarily call up and say "We need someone at this time and date."
Who Can Do This?
The short answer is anyone with a normal amount of physical ability. The trach suctioning and G-tube feeding are not rocket science. Although the home health aides are not permitted to do it while they are here, I've trained friends and family to be able to do these things. For example, if I go out to a movie, concert, or sporting event I take my portable suction machine with me and my friends or family take care of it as needed.
In addition to these activities there is also some slightly more gross stuff to deal with. My urine bag needs to be emptied. And in the evening after I go to bed is usually the time when I need to get on the bedpan. It is not difficult to get me on or off the bedpan. You roll over, stuff it underneath me, roll me back on top of it. After I've finished my business you have to roll me off, wipe my butt, and clean up the bedpan.
You would be responsible for maintaining the house, cleaning, laundry, your own cooking etc. The kinds of things you would be doing if you were on your own.
I have a van with a wheelchair lift. I need to be taken to doctor's appointments and whatever other activities I might need to do. However I don't really get out very much.
At one point I was thinking perhaps a couple of college students would be good roommates but trying to juggle their schedule, nursing schedules etc. might be pretty difficult. Having had Barb here for two years who is on disability but still somewhat physically capable I'm thinking someone like her who is perhaps physically fit but recently retired might be a good candidate. There is no smoking in the house. Barb and Josh smoke on the back porch or in the unheated garage during the winter. No heavy drinking. No recreational drugs. I really prefer no pets even though Barb brought 4 cats with her. She keeps the litter box well cleaned and if you brought pets I would expect the same. As I told my friends when Barb moved here, given a choice between 4 cats and a nursing home I would get used to the cats. Still, it's not my preference.
When someone asks who is Barb? I describe her as a friend, roommate, caregiver in that order. She's my friend first, my roommate second, and my caregiver third. I would hope to build such a relationship with another person.
Is There Any Other Help Available?
Because my current roommate Barb was able to be here virtually 24/7 (except when the respite nurse was here) I did not qualify for any other assistance except for the home health aide in the morning. However when my sister was living here while my dad was ill and after he died, we were able to get nine hours per day of nursing service five days a week so that she could go to work. Unfortunately, that system just barely worked. Even though we had reasonably reliable people, there were always incidents where someone had to call in sick at the last minute, their car would break down, their children or other family had issues. Sometimes they just needed to take some time off for vacation. It was extremely difficult to get replacement nurses, especially for last-minute schedule changes. That meant that my sister Carol would end up either going to work late or not at all. I have other friends who sometimes are able to fill in in an emergency situation but they have lives of their own and cannot always help.
So while technically I could have a roommate with a full-time job, it would be better if I had someone who is retired or available throughout the day. The nursing support just isn't foolproof. After Barb moves out in a few months, my sister Carol will be here a few more months. She currently has a work-from-home job working for the Indiana 211 Information Line. Thanks to the pandemic (if you can say such a thing), many people are now working from home. As long as you could take a minute or two breaks when I needed something, a work-from-home person would be ideal.
What Does It Pay?
Short answer… Not much. You get free rent, free cable (including HBO and Showtime), free Internet, Netflix, Hulu, Amazon, Disney+, free utilities, use of a desktop computer, use of the entire house, your own bedroom. And that's about it. However recently thanks to a benefactor, I might be able to pay a small stipend or provide some additional expense money. My resources that I could devote to this could be as much as $1000 per month. However, if I have more than one roommate, that $1000 is the grand total per month. I could not afford that per roommate. I'm still working out some of the details about how this compensation would work. So the benefit really is all in the free housing.
My house has 4 bedrooms. One is mine and one is my office although if we needed another bedroom I could move my computers and other office stuff into the family room. We have a bath and 1/2. Air conditioning, washer and dryer. Refrigerator, gas stove, microwave, and dishwasher. The dishwasher was a big selling point when Barb moved here :-).
More about Me
I'm pretty easy to get along with. I'm addicted to TV. I love sci-fi and action movies. I'm basically a nerd. I have a BS degree in computer science from IUPUI. I write technical articles about assistive technology. I designed and built a variety of AT gadgets including a gadget I call my "Ultimate Remote" that allows me to control my iPhone, TV, cable, computer mouse, and other gadgets all with just three little pushbuttons in my right hand. Below is a video that my friend Bill made when he was helping me make a new version of my remote control. While he was here, I took him on a tour of all of my assistive technology and gadgets. The video below will give you a little more idea of what I'm capable of doing or not doing and how my gadgets work. It talks a little bit about my day-to-day life.
Here are some other links of interest.
Also browse around this blog and other blogs that are available on the menu at the top of this page. It will help you get to know me better.
What You Can Do
First of all pray. Pray that the right person is available to keep me out of a nursing home. If you don't believe in prayer just wish me luck.
Think about your family, friends, colleagues, people from church, social circles, everyone that you know, and think about whether or not they might be able to help me out. Feel free to forward this article to anyone you want to and have them forward it or repost it as well.
Finally if by chance, you might be interested in free rent in a nice house, free cable, free internet, interesting company from a smart and funny guy, all in exchange for being stuck here with me most of the time and wiping my butt as needed… Then contact me. Email me at cy_borg5@cyborg5.com and we can talk via Zoom, Facebook, FaceTime, or phone and/or set up an in-person meeting. Let's talk about the possibilities and perhaps we can work something out to our mutual benefit.
And keep praying.