The Journey Home
I don't really recall everything that Judy and I talked about on the way out. We were both sort of emotionally exhausted but still on a big high. Even though we waited a little bit for the crowd to thin we still had to fight a pretty big crowd to get all the way around the arena to the other side were the elevators were. I decided we should not call my dad until we got downstairs because we didn't want to be on the phone with him if it was our turn to get on the elevator. As it turned out of the three elevator lines, ours was naturally the slowest moving one. I already told you about the conversation with the woman from Cleveland who had gotten emotional over "Paperback Writer". Judy asked where they were staying while they were in Indianapolis. The woman said they were staying with friends from Jeffersonville which is almost as far south from here as Cleveland would be north. I was happy we didn't have that far to go. It was after 11:30 PM.
We got downstairs and reunited with Anne. We called my dad and went down the ramp and out the door To wait for him outside. I knew that Judy and Anne both needed cigarettes. We just talked about the show in and talked about taking pictures and about the people that sat next to her. At the very end of the show they had fired off a pair of confetti cannons and the clouds of confetti drifted towards where Anne had been sitting. I had said to Judy "I hope she saves us some confetti". Great minds must think alike because indeed she did. I will end up taping the confetti pieces into my program as a keepsake along with my ticket stub. Judy made sure she had taken her ticket stub as a remembrance as well.
I was in bed by about midnight but I didn't get to sleep until about 2:30 AM.
The Days That Followed
The next day I started working on making a mix CD of all of the songs we had heard that night. Some of them I already had on CD. A couple of them I bought on iTunes. The remaining songs were acquired by a method not altogether dissimilar from the one in which I had first acquired Beatles music (wink wink nudge nudge say no more). A Google search provided me with the set list from the concert. Apparently the McCartney press office had released a set list in the concert had followed it except that it originally was supposed to contain "Get Back" instead of "I Saw Her Standing There". I like "Get Back" okay but I was glad the other one was substituted. I later found another set list with links to some of the songs on YouTube and it helped me identify Beatles versus Wings versus just plain Paul songs.
It took two CDs to hold the entire collection of songs from the concert. I had asked Anne if she preferred live versions or studio versions of the songs where available. She said "studio" and I agreed. I like them best so that's what I did. She came over that evening and brought her camera so I could download the photos. I was overjoyed to see how wonderful they all were.
I took a break from my Beatles adventure on Tuesday and then on Wednesday through Friday I worked on writing this blog. It took me from lunchtime to suppertime all three days to complete it. Then it took me all afternoon Saturday and Sunday to edit it, upload it, and attach the images. As you can imagine, writing it was an emotional experience as well. However as I said in the beginning when I have big experiences in my life, they aren't complete until I've written about them.
I originally started doing the Wikipedia searches just so that I could link the song and album names in this blog onto something but along the way I learned a lot about the songs, how they were written, and the context in which they were written. I did not know for example that "Abbey Road" was actually the last album they recorded even though "Let It Be" was released after "Abbey Road". I did not know about the role that the "Long and Winding Road" had played in the breakup of the Beatles.
Although Wikipedia is not always the most reliable sources for encyclopedic information, my guess is that Beatles fans would not allow an accurate information to stay on the site for more than a few minutes. Even if it isn't 100% accurate but still is some interesting reading and I encourage you to click on a few of the links.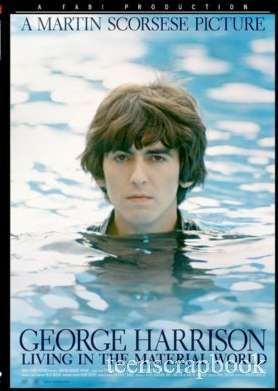 While preparing this blog I also stopped by Amazon.com and ordered DVDs of "The Love We Make" which was the documentary about the post-9/11 concert that McCartney did. Also "George Harrison: Living in the Material World" which was the Harrison documentary I mentioned. And while I was at it I ordered the Billy Joel documentary "Last Play at Shea" and a Blu-ray of the concert film "Billy Joel: Live at Shea Stadium"
Then in early August I made one more purchase. I wasn't going to have a camera that you stupid AA batteries that you had to take out and charged by themselves. For a long time I had wanted a new camera that was chargeable by USB. My friend Stu recently bought a new Nikon point-and-shoot that was really nice so I went out and bought one for myself. It has a 7x optical zoom, shoots 720p video in addition to stills, and the extremely thin considering resume. On sale at Best Buy for under $100 and I couldn't resist. Here is a photo of me in my Paul McCartney T-shirt taken with the new 20 megapixels camera. Note I downsized the picture to lower resolution for uploading a blog. You don't want to see my age spots and scruffy beard at 20 megapixel resolution trust me 🙂
Overall it's been an amazing experience and one that I'm certain I will never forget. Sharing it only with Judy and Anne just wasn't enough. I had to put it down in my blog and share with everyone. I hope you've enjoyed our own little Magical Mystery Tour. I like mine better than the original.