After the emotional tribute to George Harrison it was great to have some fun songs to raise the movie again. It was time to build up for a grand finale and we were not disappointed.
Let's Have Some Fun
"
Ob-La-Di, Ob-La-Da
" 1968 Beatles album "
The Beatles (White Album)
". This is a fun little Beatles song which was a big audience participation song. People chimed in on the refrain "La la la life goes on…". I really needed something upbeat after that previous song.
"Band on the Run" 1973 Wings album "Band on the Run". This is one of my favorite Wings songs and they did a really great version of it. Again another big upbeat song to get me over the Harrison thing. It's one of a number of Wings songs that changes tempo in the middle. It starts out as a soft ballad in and goes into hard rock. I really enjoyed it. Especially the synthesizer solo.
"Back in the USSR"1968 Beatles album "The Beatles (White Album)". Always liked this hard rock song even though it was a bit difficult to like a song about the USSR at the height of the Cold War. I always thought it was strange that they wrote the song having never been to the USSR. Check out the Wikipedia article about how it was written as a parody of the Beach Boys and their influence and input into it.
After the song he went over and sat down at the grand piano at the back of the stage again and begin talking about the time they did get to go to Russia and played the song. They were the first rock band ever to be invited to play in Red Square. He said they were introduced to all sorts of Russian officials such as the defense minister and other high ups in the Soviet government. He said they tried to be as polite as possible not wanting to set off some international incident and wondering just how welcome they would really be there. He said the defense minister came up to him and said "The first record I ever bought was 'Love Me Do'". McCartney did a pretty good fake Russian accent as he told the story. He went on to say that some of them told him they learned English by listening to Beatles records. One of them came up to him, shook his hand and said "Hello Goodbye". I thought it was a really good joke. I don't care if it really happened or not. Because he had returned to the grand piano I knew that one of my much awaited songs was not far off. I was not disappointed when the next song was…
"Let It Be" 1970s Beatles album "Let It Be". When I said at the beginning that I had braced myself for emotional moments in a Paul McCartney concert wherein he would likely sing lots of Beatles songs, I was a little bit concerned this might be a tough one for me. It's probably fourth or fifth on my favorite Beatles songs but the more I got to thinking about it prior to the concert I realized it wasn't really a tear jerk kind of song for me. I just really really liked it.
I suppose the most emotional part about the song for me was that we used to sing it in my high school choir and that I had the sheet music for it and learned to play the opening piano introduction on our Hammond organ in my house. Back in the days when I had better use of my hands (hell any use of my hands) I liked to play the organ. Most of the time I played a one note melody with my right hand occasionally hitting a two note chord. There were only two exceptions to this limitation. One was a Christmas hymn "What Child Is This?" in which I could play pretty good melody with the right hand (one note at a time) and a base note with the left hand. However "Let It Be" was my masterpiece. I played it with both hands and at certain points actually played two note chords with each hand! I worried a little bit that the fact that I might get nostalgic and upset over my loss of ability to do this would make the song a tough listen for me. As it turned out I just set back and enjoyed hearing one of my favorite songs being beautifully performed live.
One other note… Part of my love of the song was it talks about "Mother Mary". Being brought up a good Catholic boy I naturally presumed that it was talking about Mary the Mother of God. The fact that the piano gives way to a church organ part of the way through the song probably reinforced that idea. It wasn't until about a year ago that a friend of mine ruined it for me (thanks Megan) by telling me that Paul's mother was named Mary and that the song was about her. Megan believed it was a double meaning but my research since then says it was all about mother McCartney. I still like the song a whole lot and it was wonderful to hear it in person.
It's also a little bit sad that it was one of their last big hits on their last studio album before the breakup. Actually by the time it was mixed and released the breakup was complete. That always makes it a little bittersweet for me.
"Live and Let Die" title song from the 1973 James Bond film "Live and Let Die". I remember when I first heard that Paul McCartney was going to do a James Bond theme. I thought it was really cool that they would hire a rock star for such a role. Pop stars had performed Bond themes in the past most memorably Shirley Bassey performance of "Goldfinger". But I didn't recall a rock star writing and performing such a song. However it set a precedent that continues through the most recent Bond theme when Adele wrote and performed "Skyfall" and won an Oscar for it. "Live and Let Die" was nominated for best song Oscar but lost to "The Way We Were". The Beatles did win Best Score Oscar for the documentary "Let It Be"
I had seen McCartney perform this song for the Queen's Jubilee and it included lots of pyrotechnics and fireworks. It was really spectacular so I was hoping we would get a good show for this one and I was not at all disappointed. There were four very loud fireball cannons that went off in the front of the stage. There were also Roman candles shooting fireworks balls into the air at various angles. Along the back of the stage there was a row of about 10 or so smaller fire cannons shooting small orange propane fireballs into the air.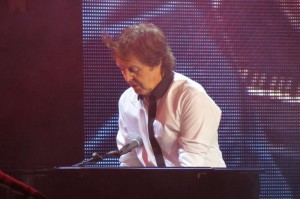 I noticed that one of the rear cannons wasn't shooting fireballs that was shooting a continuous orange flame about 6 feet tall. The flame continued to burn after the other devices had quit shooting. It had me a tiny bit worried we were going to see some disaster if the thing got out of hand. The flame gradually died down and ended as if someone had slowly cranked closed a valve. Near the end of the song when the rear fireballs resumed, that particular one did not do anything. I thought it was kind of cool that the stagehands had a way to selectively shut that one down and did so.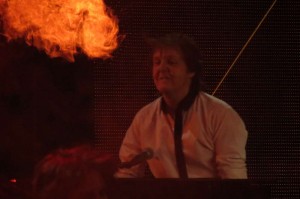 As wonderful as these photographs are from my friend Anne, I'm a little bit disappointed she didn't get a wide shot of the whole stage showing some of this pyrotechnic stuff. But I can't really complain considering how awesome the rest of her photos are. And you can see some of the fireballs in these images. The song ended with a loud explosion and McCartney walked away from the piano holding his hands over his ears shaking his head and laughing. The whole thing was every bit as spectacular as a James Bond song performance should be.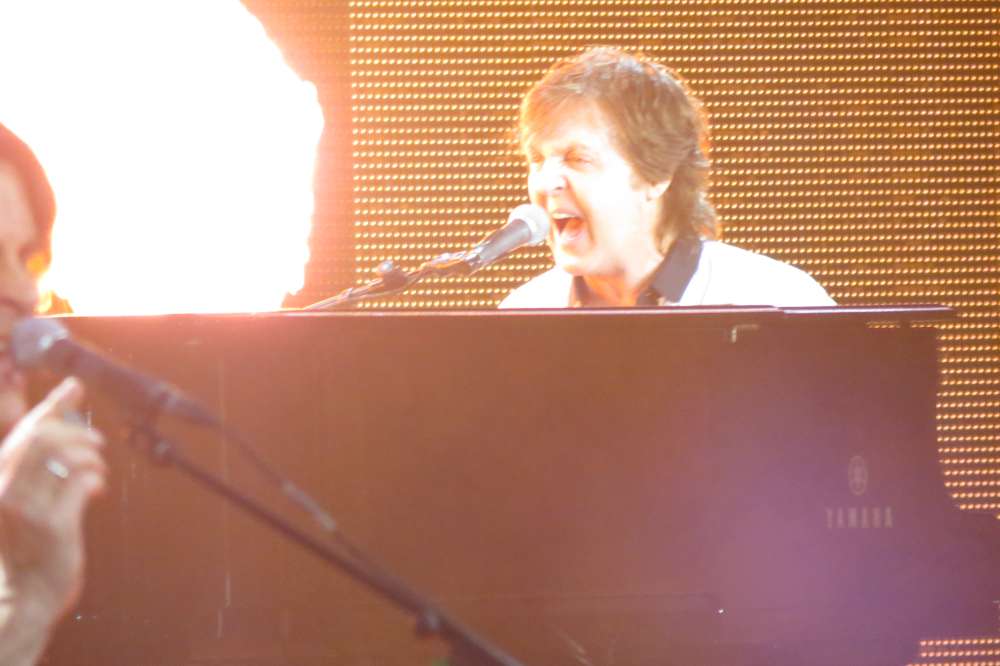 "Hey Jude" 1970 Beatles album "Hey Jude". Judy had been saying since well before the constant that she couldn't wait to hear McCartney sing to her directly "Hey Jude". I told her "You know it was actually written for Julian Lennon don't you?" She said "Yeah I heard that they are wrong. It's all about me." With the song started she let out a big cheer.
This is always a big audience participation song for the much repeated coda at the end. The audience didn't need much encouragement to sing along. The band quieted down and just kept a beat for the audience to sing to. He went through the usual live concert routine "Everybody on this side." And then "Everybody on that side". And now just the guys. And now just the gals. And now EVERYBODY! It's a cheesy trick but it's a lot of fun and I screamed out the words just like everybody. I was kind of surprised how clearly you can tell the difference between the men and women singing. There was clearly a deeper tone. Lots of times when they say "just the guys" the guys don't chip in and sing very much but this time they did. Everybody likes singing along to the song and it was a lot of fun.
So it wasn't just McCartney singing to Judy. It was about 18,000 people in Bankers Life Fieldhouse.
The band all stepped forward with McCartney, took a bow, and walked off stage to thunderous applause.