After the very emotional memories brought back by the last Beatles song it was a welcome relief to just get some ordinary songs. Some of them I had never heard. Some Judy had never heard but I had. One was a much different version than I had ever heard and my research after the concert explained why.
For the Wings Fans
"Listen to What the Man Said" 1975 Wings album "Venus and Mars". If he had sung another emotional Beatles song at this point it probably wouldn't kill me. Fortunately he shifted to a upbeat tune from Wings that wasn't at all mushy. It was just a nice little rock song that gave me a chance to catch my breath. I'm not sure if it was before or after the song that he stepped to the side of the stage and took off the black jacket. He announced "This is the one and only costume change of the evening." He also picks up a different guitar. This one a lead guitar painted in psychedelic 60s colors and paint scheme. I'm not sure if the costume and guitar change was before or after the song but it was about now.

"
Let Me Roll It
" 1974 Wings album "
Band on the Run
". I'm not sure I had ever heard this song before. It features a big electric guitar riff that repeats throughout the song. They did an extended version it was the electric guitar portion sort of merged into a bit of Jimi Hendrix's song "Foxy Lady". After the song he explained that it was in tribute to Hendrix who he said was a fan of the Beatles. He told of a time that they released an album (I forget which one) and two days after the release, Hendrix has learned one of the songs and incorporated it into his own shows.
Naughty Nurses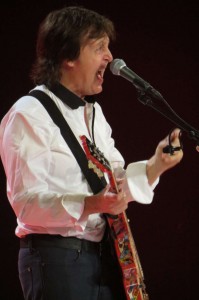 "Paperback Writer" 1966 Beatles single. This is a silly little song about an author whose life's ambition is to write paperback novels. I mentioned that there were video screens on either side of the stage. They were tall narrow screens that projected live video of part standing on stage. However the center background of the stage was also a giant video display that mostly showed still images but some video that related somehow to the song. On this song it showed the cover images from cheap paperback novels mostly about naughty nurses and the like. In fact most of it was nurses in old-fashioned white nurses uniforms and white surgical masks on. Many of them were covered in blood. I recall it as one of those songs that was a hit song but nobody ever really bothered to pay attention to what the lyrics were about. They didn't carry it was a Beatles song and it had a great beat and so it was popular. Judy and Anne neither one had ever heard it. As we were waiting on the elevator after the concert we talked to a couple of women in their 60s who had come all the way from Cleveland to see this concert. They had on Beatles T-shirts they had bought on eBay. As we were talking about which parts of the concert they like the most one of them said they got emotional over Paperback Writer. I don't know what happened in her life in 1966 that connected her to that song. It seemed like a silly song to get emotional about. Oh well. I guess her life at a different kind of soundtrack than mine even though it was Beatles 🙂
I will flash forward in the story for a moment here to say that the day after the concert I went searching for all of the songs that we had heard that night. I had to research many of them on Wikipedia to try to figure out when they were written and what album they were from. I was quite surprised to learn that many of the songs were released only as singles. I was thought that the typical route for music was that a man would release an album first, release one or two songs as singles, and if they were hits continued to release other singles from the same album. But this song as were many others by both The Beatles and Wings were first released only as singles and sometimes B-sides a singles but we're not put on albums until years later when they would throw together a retrospective or a collection of previously non-album singles. This particular song did not appear on the album until the 1970 album "Hey Jude" which was just a collection of such singles.
On the Piano
"
My Valentine
" 2012 McCartney album "
Kisses on the Bottom
". At this point McCartney moved to a grand piano elevated on the right rear of the stage. This is a recent song which he wrote for his current wife. The album is a collection of him singing mostly cover songs of classic pop and jazz songs such as
Irving Berlin
's 1925 "
Always
" and
Johnny Mercer
's 1944 "
Ac-Cent-Tchu-Ate the Positive
". He explained that he wrote it for his current wife while they were on a vacation that was marked by lots of rain. During the performance on the center video screen was a video of a man and a woman performing the song in American Sign Language. McCartney plays piano and it includes an acoustic guitar solo that is great. It was really beautiful both the song and the signing performance. I had heard the song on one of his recent television performances perhaps the Hurricane Sandy concert? I forget. It really fits in well with the other old standards on that album. Neither Judy nor Anne had ever heard it but they liked it a lot.
"Nineteen Hundred and Eighty-Five" 1973 Wings album "Band on the Run" The year 1985 is mentioned once in the song that I never really knew why you would name also song that when it was mostly a love song. It's got some great piano riffs and a big rock 'n roll beat. On the original album it is in a big crescendo with a full orchestra among other instruments. For the live version the keyboard player using a synthesizer had to provide all the horn section and other orchestral sounds. There's also some pretty good guitar riffs in it. Not my favorite Wings song but a pretty good one. Judy took the opportunity of a nonemotional ordinary Wings song to make a quick trip out to the restroom.
"The Long and Winding Road" 1970 Beatles album "Let It Be". This was a much different version of the song that I recalled. It was very simple stripped-down piano and acoustic guitar version. It's a sad ballad that I always really liked. The original version always seemed a little bit overproduced to me with a big orchestra that seem to over dramatize the song. I was disappointed that Judy wasn't going to get to hear it because she was still in the restroom. When she got back I told her she had missed "The Long and Winding Road" and she said she hadn't. The restroom was right outside our door and she could hear it just fine. In fact we even sounded better with the volume down and not so much echoing around and sort of muffled sound you get when your ears are overloaded.

It wasn't until I looked up the Wikipedia article on this song that I learned there was a lot of history I didn't know about the song. According to Wikipedia it was the last straw so to speak that broke up the Beatles. After they had recorded the original version, producer Phil Spector brought in the orchestra and tried to overdub it with the orchestra. When McCartney heard the overproduced orchestral version he wrote a nasty letter to management at Apple records insisting that the song be remixed. His request went unanswered. There are more details in the Wikipedia article that you really ought to read. In 2003 the remaining living Beatles and Yoko Ono released an album titled "
Let It Be… Naked
" which was a remixed version of the entire "Let It Be" album. The one we heard at the concert that night was more like the "naked" version and I loved it.
"Maybe I'm Amazed" 1970 album "McCartney". This was probably the most famous of his early post-Beatles songs. It's dedicated to his wife Linda who helped him get through the breakup of the band. I think when the song was originally released he got overplayed so much I got tired of it and it never really appealed to me after that. I did like the piano playing in the original and at the concert but it's not one of my favorites.
To be continued…